We are Strong. We are Resilient. We have Purpose.
Avionté is working diligently to ensure our staffing clients have the latest resources available to help navigate this challenging time and continue doing what they are meant to do, putting the nation to work. From providing the most relevant information and understanding what tools are available to help, we are focused on putting our clients needs at the forefront of everything we do.
Webinars
Avionté & COVID-19 Compliance Updates
In partnership with the American Staffing Association, this webinar explores:
Coronavirus Preparedness & Response Supplemental
Families First Coronavirus Response Act (FFCRA)
Coronavirus Aide, Relief and Economic Security Act (CARES Act)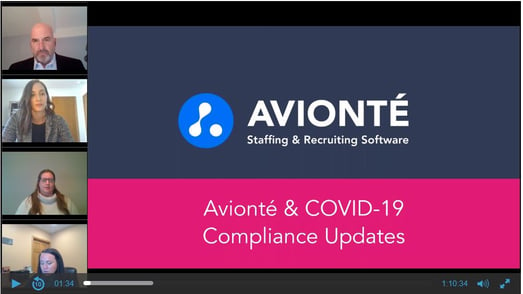 Staffing Industry Resources
Government & Other COVID-19 Resources
Insights From Avionté
Articles
Avionté RAW (Real Analytics Weekly)
Each week, we analyzed our aggregated, national, and large hosted data to see if we can spot any trends in the staffing industry that may shed light into the future.
You can view the the most recent updates on Avionté RAW
Videos
The New Abnormal: What We Are Hearing From the Staffing Industry
Talking to staffing firms all day, every day during quarantine is both heartbreaking and heartwarming. After speaking with hundreds of staffing firms, here's a brief overview video of what we are hearing.
Video Interviewing
Avoid in-person interviews entirely (while speeding up the interviewing process) with the video interviewing feature of the Attract Module from Avionté.
Digital Onboarding
L
earn how
Digital Onboarding
from Avionté can help staffing firms enable social distancing while keeping the candidate onboarding process smooth and efficient.
Client Tribute Video
We wanted to share a sincere message of support and thanks to all our amazing clients and the work they do, day in and day out, which is more important now than ever.
Downloads
The Staffing Industry COVID-19 Pulse Survey
The folks at StaffingHub put together this insightful survey that explores how changes from COVID-19 are impacting staffing firms. This comprehensive report includes:
The magnitude of internal layoffs that have hit the industry

How staffing firms anticipate the pandemic will affect their bottom lines in the short- and long-term

What staffing firms anticipate the future holds